Tarifa has everything that any intermediate mountain biker would ever want: great views, a feeling of adventure, varied trails, fun riding and great descents:
Big cross country full days along stony coastal paths beside the Straits of Gibraltar with amazing views across to Morocco and the Atlas Mountains.
Medieval herding tracks over rolling farmland/wetlands.
Winding trails through ancient cork oak forests-
Steep downhill technical single tracks over rocks beside sparkling mountain streams.
All within a lush green landscape with craggy sandstone peaks and mountains that roll into the sea.
Tarifa offers an abundance of intermediate XC MTB trails starting and ending in the town ranging in length from 15 – 90 km from sea level up to over 800m taking from 2 – 7 hours (plus or minus 20% for young bloods and OAPs)
Many more can be started, after a short drive, from the historical Pueblo Blancos of Vejer de La Frontera, Benalup-Casas Viejas, Medina Sidonia and Alcala de los Gazules.
This is 'Raw' terrain – no Visitor's Centers and marked trails – but Tarifa Adventure can provide bikes, arrange guides and offer maps and instructions; although to fully appreciate the area, it's wise to take a guide on the first day and especially if you want to find the hidden single track gems.
Tarifa's main attraction as a MTB center is largely due to its location and geography.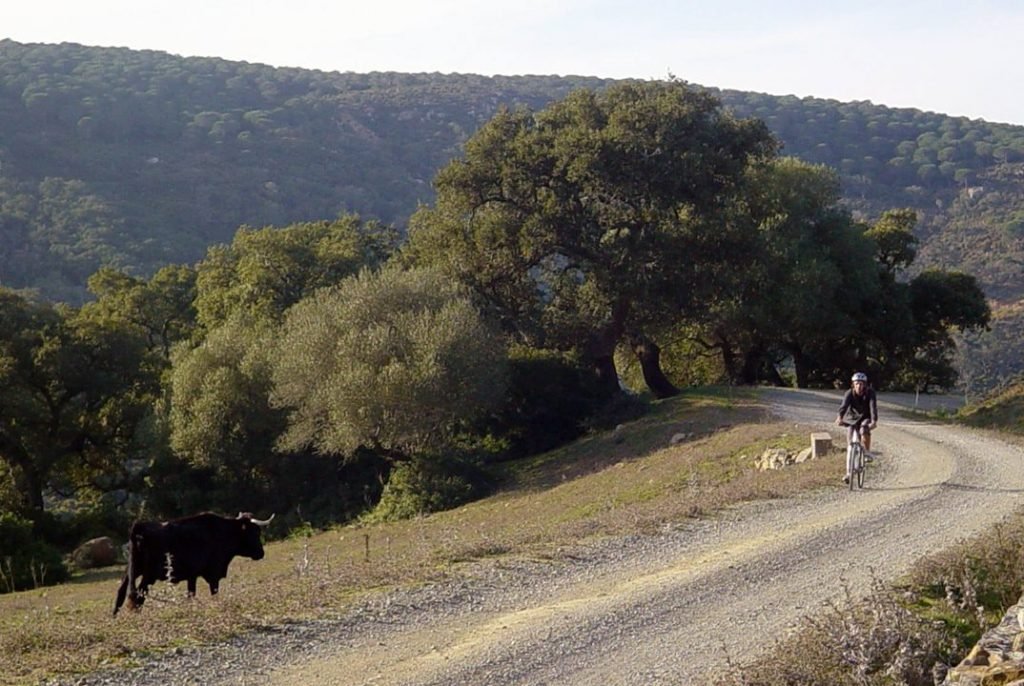 Tarifa is located between two natural parks, Los Alcornocales and El Estrecho. These two parks provide lots of great tours including tracks through forests that involve navigating some difficult terrain and across wide-open green landscapes and what was once the most extensive wetlands in the Iberian Peninsular.
Because of Tarifa's proximity to Morocco, those tours, which move South towards the coastline, also offer stunning views across the Straits to the coast of North Africa just 14 km away.
Pre Planning
Plan well and tell Tarifa Adventure where you are going. The routes are not well marked and there's scant mobile phone coverage in some remote parts.
Trails
The 3 mains areas around Tarifa for recreational mountain biking are:
West – towards Punta Paloma, Betis, Betizuelo and Bolonia.
North – towards Sanctuario de La Luz, Facinas and Benalup
East – towards Guadalmesi, Pelayo and Gibraltar.
(South – reserved for water sports)
You can cut out a lot of the tarmac by driving to some of the trail heads.
You need a guide to access the many natural downhill technical single tracks:
Along the way
You could carry a packed lunch, but refreshments in Spain are cheap and you can stop off at any number of roadside cafes/restaurants for a 'pit stop' with the loo and a coffee costing 1 Euro or a 'Menu del Dia' costing around 9 Euros for a 3 course lunch with (one) beer and coffee included.
The locals are friendly (either in a bar or by the roadside) and respond well to a' Buenas Dias' or 'Buenas Tardes'.
You'll meet fishermen, goat herders, cattle ranchers, farmers, forestry workers and cork oak cutters along the way.
Above all, Tarifa offers the average rider the pleasure and ability year round to enjoy fresh air, raw nature and amazing sea/wild/bird life in a pleasant dry climate 300 days/year.
Weather
Sure it can be hot in July and August with temperatures up to 38 degrees (but not in the morning if you start early enough) and you'd be unlucky to experience more than a couple of consecutive days of heavy rain in the Autumn or Spring. (The Tarifa area has about 6 weeks of heavy rain a year)
Recovery
Call Tarifa Adventure.
Emergency Numbers
112

General Emergency
061

Ambulance
062

Guardia Civil
Accomodation
Videos
Webites
Facebook